Thompson Solutions Group is an industry-leading and technology-integrated electrical contractor serving the Sioux City, Sioux Falls and Omaha communities and beyond. Since 1912, our experienced electricians, engineers, estimators, designers, project managers and licensed technicians have provided reliable and high-quality electrical contracting and technology solutions to customers in the commercial, industrial, healthcare, government, education and residential sectors.
New Construction & Expansion Projects
Start to finish, we have the talent and resources to accurately and efficiently design, plan, install, and finish the new electrical installation or expansion project that will move your business or family forward. Our electrical engineering team is licensed in Iowa, South Dakota, Nebraska, Minnesota, Texas, and Nevada.
With hundreds of highly skilled and certified electricians, Thompson Solutions Group has the resources to deliver your project on schedule and within your budget. By constantly evaluating installation methods and equipping our technicians with the latest technology, we ensure industry best practices are being adhered to.
Leveraging 3D drawings, CAD designs, Revit building information modeling (BIM) software, extensive prefabrication capabilities and an optimized integrated project delivery (IPD) system, we are well equipped to not only design and build your new electrical system but also deliver faster, better results than other electrical contractors. Below are a few of the offerings our Electrical Construction team has to offer;

We offer a well-defined and streamlined construction process filled with subject matter expertise, attention to detail and quality workmanship:
Agree on the scope of requirements
Develop a comprehensive list of materials
Ensure client review and approval
Craft the 3D design of electrical components
Coordinate review by other trades for potential conflicts
Efficient and sustainable
As an industry pioneer in prefabrication, delivery, assembly, labeling and staging efficiencies, you can expect more accurate estimates, a more predictable schedule, more consistent components, more cost savings, fewer delays and less breakage, packaging, waste, material returns and risk of injury. It's a win-win for everyone.
After pioneering prefabrication for streamlined electrical construction back in 2001, Thompson Solutions Group has become a nationally recognized leader in the field, regularly hosting colleagues from across the nation to help them develop their own prefabrication processes and prefab shops.
Our pre-construction process is unique in that we coordinate with our other trades early and deeply to identify opportunities for multi-trade prefabrication within each project. As a result, we have a proven track record of completing projects on time and on budget.
We work closely with all team members to share expertise and talents, and to optimize value during the design and pre-construction phases in order to arrive at the most cost-effective electrical and communications system for the project.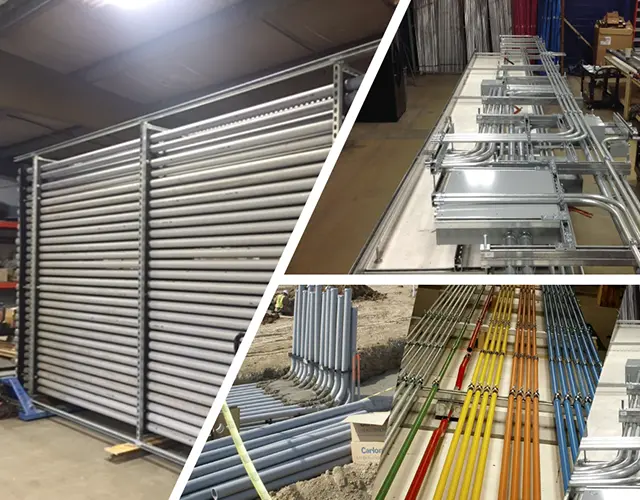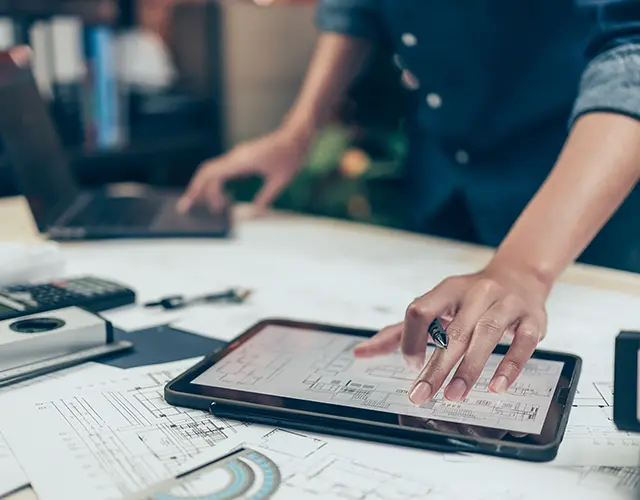 Innovation has always been a driving force throughout the history of Thompson Solutions Group, and the structure of the company today revolves around collaboration, inclusivity, continuous improvement, and adaptation. Thanks to constant advances in technology, we're always streamlining how we serve our customers and developing new and better products, services, and processes, leading us to better quality control, improved productivity, greater cost savings, and just-in-time delivery.
From design work to prefabrication, management, and installation, we equip our entire pool of teams with dedicated resources and access to the latest industry trends in technology. For example, we employ data vaults in the field and equip all our foremen with iPads and iPhones to give our field planners the most up-to-date information available and ultimately increase productivity while reducing workload. And the Trimble Robotic Total Station allows us to quickly and accurately lay out our underground installation along with light fixture placement and power distribution overhead routing for site lighting, trench lines, stub-ups, in-slab rough-ins, floor boxes, and room layouts.
Renewable Energy & Backup Power

Ensure smooth business operations with Thompson Solutions Group as your ongoing maintenance partner.
Our electrical preventive maintenance (EPM) agreements help you develop the proper preventive maintenance program to protect your operation from failure and downtime from risks like fire, loose connections, overheating, malfunctions and dust or debris buildup.
We also offer service contracts for repairs.
Effective maintenance can keep your people safe, lower your liability, extend the useful lifecycle of assets, avoid unplanned downtime, reduce equipment loss and increase energy savings.

Specialists at Thompson Solutions Group are available to offer advice on all electrical projects, inspect gear for compliance issues, conduct private locates for underground electrical needs, identify and correct home inspection issues for new buyers, perform energy audits and make suggestions for energy savings, repair and/or replace emergency and exit lights per fire department inspections, and more.
We are leaders in the Midwest electrical industry, and we're committed to advancing your business or family with excellence and integrity.
Maintaining your Electrical System